Detachment 20, 16th Weather Squadron, was activated at Fort Wolters on 1 July, 1966, based on statement of requirements from the U.S. Army to Air Weather Service. It was the only U.S. force unit at Fort Wolters. The unit began operations on 22 August 1966. After operations began, facilities were built to house the various functions of the detachment.
Detachment 20 was one of the detachments of the 16th Weather Squadron headquartered at Fort Monroe, Virginia.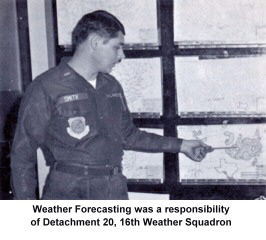 The detachment provided accurate forecasts and observations of the weather to support the flying operations of the USAPHS, as timely and reliable weather information was directly related to safe flight training operations.
The weather station was located at building 552 and was in operation 24 hours a day, seven days a week, with constant weather analysis performed by the forecasters. They obtained data from throughout the United States by use of teletype receivers and facsimile machines located in the weather station. Constant weather observations were taken by well qualified weather observers at Wolters Heliport and Dempsey Army Heliport. Research was continually undertaken to find better means to forecast the weather accurately for the local area and to improve overall products of the weather service.