Directorate of Plans, Training and Security
The mission of the Directorate of Plans Training and Security is to support USAPHC/S and Fort Wolters as the Commanding General's principal advisor for planning, developing and supervising military operations; intelligence and counterintelli­gence operations; security activities; unit and permanent party training; USAPHC staff aviation matters; search and rescue operations; training aids support; weather information for USAPHC/S and Fort Wolters. and employment of the 328th Army Band. DPTSEC also develops TAADS policies and procedures; reviews TDA/TO&E documents; controls allocation and utilization of installation manpower: implements organizational development and force planning related to assignments, activations, inactivations/discontinuances and reorganizations of units; requisitions, stores, and issues all maps used by USAPHC S and Fort Wolters.
Primary I and Primary II Flight Departments
Primary I and Primary II Flight Departments conduct initial entry rotary wing aviator training. Students are instructed in Primary flying tech­niques to include pinnacle, confined area, and slope operations, autorotations, emergency procedures, navigation at normal and low level (not below 500'), and night operations. Students receive a total of 110 flying hours during their stay at the school, 50 hours of dual instruction and 60 hours of solo flight. Fifty hours are accumulated with the Pri­mary I Flight Department or the civilian contractor, Southern Airways, Inc. The remaining 60 hours are obtained with the Primary II Flight Department.
Flight Evaluation Division conducts the Meth­ods of Instruction course for military instructor pilots and assures standardization of flight instruc­tion. The evaluation of student pilots before ad­vancing in levels of training is a major part of this division's responsibilities.
The Training Support Department (TSD) is responsible for the management of all training resources to insure student training requirements are met. This entails the collection and analyses of student training data, determining the daily requirements for resources, and the allocation of training areas directly to the flight sections in residence. TSD was established in May, 1966. Functions and responsibilities have been periodically reviewed and changed to meet the rapid expansion requirements of USAPHS. An automated student training management system was implemented in January 1967, to provide more timely and accurate information on which to base management decisions.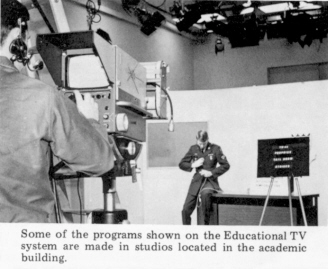 A closed circuit command information television net originating at TSD allows training assets man­agers to provide graphic presentations of informa­tion to users of resources. TSD also has the responsibility of acquiring, classifying and marking all off-post advanced training areas. The Educational Television Branch of TSD produces television tapes for training, and operates six (6) closed circuit television channels. TSD also has the responsibility of acquiring, classifying and marking all off-post advanced training areas.
The Academic Department of the United States Army Primary Helicopter School prepares, presents, supervises, and monitors all classroom military instruction, selected flight academic subjects, and Educational Television of the School. At present, the Department presents instruction to an average of 4400 students per year which includes officers, warrant officer candidates, members of the Viet­namese Air Force, and students from several other allied countries. An average officer class is approxi­mately 130 officers, whereas, the warrant officer candidate classes usually begin with approximately 160 members.
Warrant officer development and airmanship subjects are the two principal areas in which the students receive instruction. In the Development Branch, the students receive diversified instruction in several areas ranging from traditional military "Map Reading" to "Management of Personal Fi­nances." The warrant officer candidates receive 91 hours of instruction in Development as opposed to 27 hours for officer students.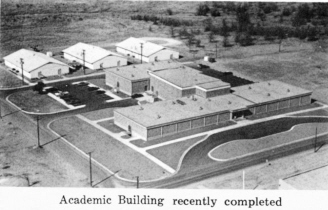 All students receive 128 instruction hours from the Airmanship Branch. During this phase of their training, the students are exposed to a great num­ber of aviation oriented subjects. The complete syllabus of instruction contains courses on a broad spectrum of aviation subjects including "Weather, Aircraft Maintenance, Emergency Procedures, and Navigation," as well as, several hours on Flying Maneuvers and Techniques.
In addition to regular classroom instruction, the Special Training Branch of the Academic Department operates a Learning Center for both US and allied students. These Centers, which operate both during and after regular duty hours, have qualified flight and ground instructors available continuously to help students improve their knowledge. In addi­tion, the Learning Centers have films, tape record­ings, and reference material as well as several unique training devices to aid the students. The Learning Centers have proven to be quite effective and have resulted in a lower attrition rate and higher overall grade averages both on the flight line and in the classroom.
The USAPHS and Allied Learning Centers are just one example of the Academic Department seeking areas for improvement and making revision. The Academic Department continually strives to improve the methods of accomplishing its important mission so that the students will indeed become "Above the Finest."
During the course of a year the records and files of approximately 10,000 resident students must be maintained at Fort Wolters. It is the function of Student Records Control Division to keep these records, as well as coordinate and supervise all graduation exercises at Fort Wolters.
Requirements and Budget Division
The Requirements and Budget Division plans, directs and supervises USAPHS requirements and budget operations; coordinates with USAPHS ac­tivities, U.S. Army Primary Helicopter Center (USAPHC), and higher headquarters to deter­mine USAPHS training, logistic and budgetary requirements.
The USAPHS has maintained one of the best safety records of any flight school in the country. In October, 1964, the Flight Safety Foundation, Inc., presented a joint award to the school and Southern Airways of Texas, Inc., the civilian flight contractor, for its outstanding safety record. The presentation was made at the foundation's 17th an­nual international air safety seminar in New York City.
In August, 1960, the school and Southern were joint recipients of the James L. McClellan Safety Award. Senator John L. McClellan presented the trophy at ceremonies in Washington, D.C.
The USAPHS has recorded over 4,760,000 fly­ing hours since its beginning in 1956. Over one million hours were flown in 1969 alone.
Students representing many of the SEATO and NATO countries have trained at Fort Wolters. The school trained its first general officer during the summer of Brigadier General Abass Ghandehari of Iran. Normally, an average of 60 allied officers undergo helicopter training with each officer warrant officer/ rotary wing class. Most of these students come from countries in Southeast Asia.
Southern Airways of Texas, Inc
Southern Airways of Texas, Inc. was a civilian firm which held a contract with the Army to perform certain tasks in connection with operations at the U.S. Army Primary Helicopter School. During WW II key personnel of Southern were involved in training several thousand military for the U.S. Army Air Corps. The company held the contract at USAPHS since the schools activation.
The contractor was responsible for primary flight training to include classroom instruction. Classroom subjects included maintenance, aerodynamics, flying safety, navigation, weather training and radio work.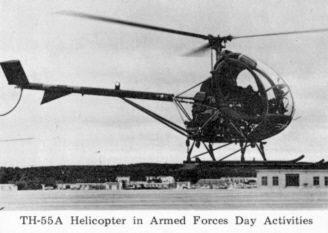 Most of the Southern Airways instructor pilots - over 300 of them - had prior military service.
In addition to actual flight training, the contractor was responsible for maintenance of all government-owned aircraft used in the training of Army helicopter pilots. Southern Airways also operated six mess halls supporting the U.S. Army Primary Helicopter School.
A major contributing factor to the outstanding safety record shared by the school and Southern was the maintenance performed by the more than 1800 personnel employed in Southern's maintenance department. Maintenance crews performed 24-hour round-the-clock maintenance to keep the aircraft in a high state of readiness. Aircraft that were maintained and flown in support of the training program were the OH-13, OH-23 and TH-55 helicopters.
Programmed flying hours during 1969 averaged approximately 75,000 hours each months.
Southern's president and general manager, Raymond L. Thomas, came to Wolters in July, 1956, to take the position of general manager, USAPHS, for Southern Airways and, in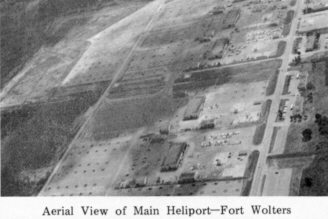 addition, he was made vice-president of the company.
In February, 1964, the local operation became Southern Airways of Texas, Inc., a separate corporation from Southern Airways Company. Mr. Thomas was named president of Southern Airways of Texas.
School Brigade is assigned the mission of directing and coordinating assigned students. In addition, it has the task of supervising administra­tion, intelligence, selected training and supply with­in the command.
The School Brigade Headquarters is organized with a command element composed of the Brigade Commander, Executive Officer, and Command Sergeant Major; an S1/Adjutant Division; an Oper­ations and Intelligence Division; and a Supply Division.
The S1/Adjutant Division makes all personnel assignments and provides personnel services sup­port, formulates policy and provides guidance concerning welfare, health, and morale of Brigade members, and serves as the administrative base for the Brigade.
The Operations and Intelligence Division is responsible for the direction and supervision of schedules, and training of permanent party per­sonnel. It is responsible for scheduling and coordi­nation of training of students conducted by School Brigade. Operations and Intelligence Division also administers all activities pertaining to security within School Brigade.
The Supply Division maintains property books, hand receipts for property issued to assigned per­sonnel, and unit supply records and publications.
Subordinate to the School Brigade is the 1st Warrant Officer Candidate Battalion, 2d Warrant Officer Candidate Battalion, the Officer Student Battalion, and the Brigade Headquarters Company. Each warrant officer candidate battalion has assigned five warrant officer candidate companies. The officer Student Battalion, in addition to four officer student companies, also has one Vietnamese Student Company assigned.
The Officer Student Companies provide com­mand and control for company personnel and officer students.
Each warrant officer candidate company per­forms command and administrative functions for warrant officer candidates. The Training, Advisor and Counseling (TAC) Officers observe and evalu­ate assigned candidates during training, maintain candidate training records, prepare and present instruction in physical training, drills and cere­monies and techniques of inspection, conduct the Command Information program, supervise class social functions, and instruct the candidates on the expected standards of conduct.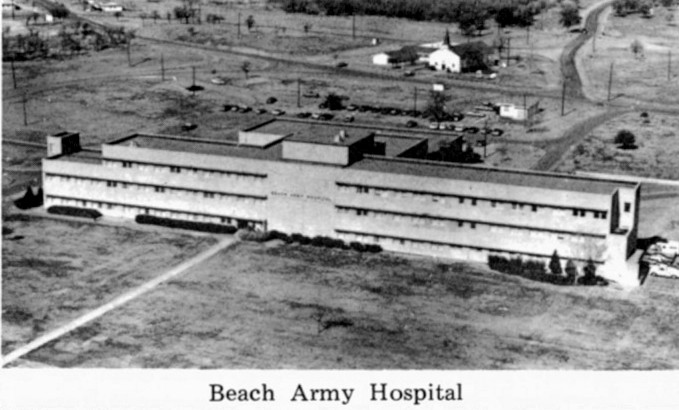 Beach Army Hospital, the first medical facility in the Army with a service designed and equipped expressly for aviation medicine, was opened in March, 1957. It was designated as Beach Army Hospital in honor of Major General George C. Beach, Jr. during a ceremony held here in July, 1964.
Designed and constructed by the Corps of En­gineers. Fort Worth District, at a cost of $2,200,000, the three story structure has modern operating rooms, wards, private and semi-private rooms, X—ray and laboratory equipment and is air-conditioned throughout.
The hospital operates as a 75-bed Class I hospital with emergency expansion to 143-bed capacity. It provides diagnostic and therapeutic service in the fields of general medicine, general surgery and aviation medicine.
The hospital provides medical services on an hourly basis as follows:
Outpatient service in the hospital holds regular sick call hours and the clinics are operated on an appointment basis. Emergencies will be seen at anytime.
General Outpatient and Clinical Service:

Aviation Medicine: Monday-Friday 0730-0930 hrs.

Dependent Immunizations: Mon. - Wed. - Thur. 1300-1500 hrs.

School Children: Mon.- Wed.-Thur. 1500-1600 hrs.

Dermatology Clinic: By appointment Ext. 2414

General Outpatient Clinic: Monday-Friday 0930-1100 hrs.

Medical, Surgical, Orthopedics, OB-GYN : By appointment (Ext. 2414) Emergencies at any time.

Military Immunizations: Monday-Friday 0830-0930 hrs.

Military Sick Call: Monday-Friday 0730-0930 hrs.

Neuropsychiatry Clinic: By appointment Ext. 2414

Pediatric Clinic: Monday-Friday 0830-1100 hrs.

Visual Analysis: Monday-Friday 0900-1130 hrs.
Ambulance Service: Ambulance service is available to all on-post military personnel and dependents. Off post service will be provided when directed by the hospital commander.
The office of the Dental Surgeon, organized at Fort Wolters on 1 March 1957, operates the post's dental duties.
The flouridation of the post water supply was initiated by the Dental Service in July, l957, and was approved in 1958. Many individuals, especially children, have benefited by this measure taken to prevent dental caries (tooth decay). The water to Wolters Village is furnished from the post water supply.
Dental Clinic No. 1 is located in Bldg. 909 on Hood Road. Dental Clinic No. 2 is located in Beach Army Hospital. Dental surgical procedures will be performed at Dental Clinic No. 2.
Fur emergency dental care after normal duty hours, report to the Emergency Room at USBAH.
Monday-Friday: 0730-0930 hours and 1230-1330 hours (except on Monday afternoons).
Offered on space available basis and the capabilities of the assigned staff. Routine Dental Examinations.
Monday afternoon: 1230-1500 hours (no appointments required).
The 328th US Army Band participated in post parades, reviews, and graduation ceremonies. The unit's thirteen piece dance band, the "Army Air Cavaliers," provided entertainment at social functions.

The band also played a large role in the Army's Community Relations activities such as traveling to many of the surrounding cities and towns to play for parades, concerts, civic, and patriotic events.

The 328th Army Band had within its structure a concert band, dance band, marching band, combo, ensemble groups, and a chorus.
Detachment 20, 16th Weather Squadron
Detachment 20, 16th Weather Squadron, was activated at Fort Wolters on 1 July, 1966, based on statement of requirements from the U.S. Army to Air Weather Service. It was the only U.S. force unit at Fort Wolters. The unit began operations on 22 August 1966. After operations began, facilities were built to house the various functions of the detachment.
Detachment 20 was one of the detachments of the 16th Weather Squadron headquartered at Fort Monroe, Virginia.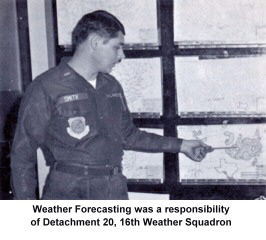 The detachment provided accurate forecasts and observations of the weather to support the flying operations of the USAPHS, as timely and reliable weather information was directly related to safe flight training operations.
The weather station was located at building 552 and was in operation 24 hours a day, seven days a week, with constant weather analysis performed by the forecasters. They obtained data from throughout the United States by use of teletype receivers and facsimile machines located in the weather station. Constant weather observations were taken by well qualified weather observers at Wolters Heliport and Dempsey Army Heliport. Research was continually undertaken to find better means to forecast the weather accurately for the local area and to improve overall products of the weather service.
84th Military Police Detachment
The 84th Military Police Detachment was activated 7 July 1964 and was tasked to maintain and supervise 24 hour patrols, maintain the MP desk, enforce laws and regulations, and prevent vandalism, pilferage, and sabotage at the installation. The detachment also provided security at the scene of helicopter crashes.
PROCESSING IN
All officers upon arrival for temporary or permanent duty sign the register in the lobby of Headquarters and Officers Company and Warrant Officer Company, building 937, or building 911 after duty hours.
All student officers report to Officer Student Company. Building 915 on arrival.
All Allied students should report to the Allied Liaison Office, Bldg. 405 on arrival.
Warrant Officer Candidates report to Bldg. 967 on arrival.
Enlisted personnel upon arrival report to the unit indicated on orders:
USAPHS Special Troops Bldg. 764
USAPHC Bldg. 825
Beach Army Hospital Bldg. 301
U.S. Army Dental Detachment Bldg. 909
LOCATION: The Provost Marshal's Office is located in Bldg. 250 on the corner of Liggett and Van Story Streets.
Under the Provost Marshal are the Military Police, Ext. 2620, and the Vehicle Registration Sec­tion, which handles the registration of vehicles, firearms, and pets.
AUTO REGISTRATION: Privately-owned ve­hicles must be registered with the Vehicle Regis­tration Section within 72 hours after they are initially brought on the installation. At time of application for registration, personnel must present a valid title, a valid drivers license, and a valid in­spection sticker, and display a valid state, U.S. ter­ritory or U.S. possession license plate on the vehicle. Personnel are also required to initiate and sign one copy of DA Form 3562 (Certificate: Possession and Maintenance of Motor Vehicle Liability Insur­ance). The insurance requirements for Fort Wolters are $10,000.00 for Bodily Injury, $20,000 for each occurrence, and $5,000.00 for property damage.
Both temporary and permanent stickers are issued by the Vehicle Registration Section. Vehicles must also have two (2) sets of approved seat belts for use of occupants in front seat(s) of their vehicle. Persons registering should present their military I.D. Also, in the event the vehicle is not registered under the name of the owner, a notarized document is required.
FIREARMS REGISTRATION: To register firearms at Fort Wolters, they must be brought by the owner to the Vehicle Registration Section of the Provost Marshal's Office where they will be registered by personnel of this section.
PET REGISTRATION: Owners are required to register pets with the Provost Marshal within one week after arrival of the pet on post. All pets must be examined by the Veterinarian and a rabies vac­cination verified by a Properly executed certificate (DD Form 793) prior to registration with the Provost Marshal.
All warrant officer candidates and most enlist­ed permanent party personnel eat in contractor-operated mess halls. Personnel of Beach Army Hospital utilize the mess hall operated by their unit. Transient Personnel may utilize Mess Hall No. 3. Mess Hall No. 6 is used by Vietnamese students only.
There are six contractor-operated mess halls.
They include:
Mess Hall No 1, Bldg. 758
Mess Hall No. 2, Bldg. 774
Mess Hall No. 3, Bldg. 786
Mess Hall No. 5, Bldg. 742
Mess Hall No. 6, Bldg. 339
Mess Hall No. 7, Bldg. 814
The hours of operation for each mess hall are posted at the entrance of the mess hall and at the unit which is served by that mess hall.
LOCATION: Bldg. 242
HOURS OF OPERATION: The office is open from 0730-1130 hours and l230-1630 hours Monday thru Friday; cashier's hours are from 0800 to 1130 hours and 1230-1600 hours daily.
Incoming student personnel will be inprocessed en masse at a pre-announced time and place, nor­mally within seven days after their arrival. A student who needs money prior to scheduled inprocessing may request pay due or partial pay. Normally, payment can be obtained within 24 hours.
Incoming permanent party personnel will be financially inprocessed during normal duty hours.
On scheduled dates of student inprocessing, the military pay section, travel section, and cashier will not he operational for other than required payment of discharges, reenlistments and and personnel trans­ferring out.
LOCATION: Bldg. 831
HOURS OF OPERATION: Monday-Thursday, 0900-1400; Friday 0900-1800; Saturday and Sunday,
Closed. The bank will be open payday 0900-1730 hours.
The bank will cash checks, open and close accounts, accept deposits, sell bonds and travelers checks, money orders, cashiers checks, and accept payments on notes.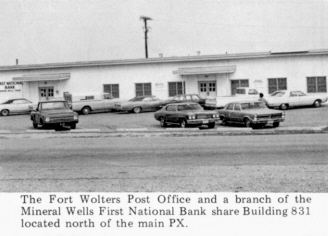 LOCATION: Bldg. 831
HOURS OF OPERATION:
Stamps, money orders, and parcel post; Mon­day-Friday, 0800-1615 hours; Saturday, Sunday and holidays, closed.
The Post Office lobby with access to mail boxes is open 24 hours a day.
The Fort Wolters Veterinary Clinic is located in Bldg. 303, near the Emergency Entrance to Beach Army hospital. It is well equipped and staffed to provide most of the services required by families to keep their pets immunized and in good health. Treatment is limited, however, to those conditions which are communicable to man. Small animal clinics are conducted each Tuesday and Thursday by appointment. All types of immuniza­tions and worming treatment are available during these clinics. The clinic is also responsible for a surveillance inspection of all perishable products sold in the post commissary and served in post mess facilities.
Center Judge Advocate
LOCATION: Bldg. 238
HOURS OF OPERATION: 0730-1130 hours; 1230-1630 hours Monday-Friday.
Legal assistance and claims service is provided active and retired military personnel and their de­pendents. No appointments are necessary fur legal assistance interviews. Legal assistance officers will be made available on Monday through Friday, to handle personal legal affairs.
LOCATION: Bldg. 806 on Hood Road.
HOURS OF OPERATION: 0730-1630 hours Monday-Friday.
The American Red Cross maintains a field office with a resident field director at Fort Wolters. After duty hours, on holidays and on weekends, the person on call for emergencies may be reached by calling the Post Staff Duty Officer.
The Red Cross representative is available to offer counseling concerning government benefits. Community resources, personal and family problems, as well as assistance with communications and inter­est-free loans or grants as indicated. He also coordi­nates uniformed volunteer activities at Beach Army hospital, voluntary safety and nursing services, and the blood program.
LOCATION: Bldg. 806.
HOURS OF OPERATION: 073300-1130 and 1230-1630 Monday-Friday. After duty hours call the Post Staff Duty Officer.
Army Community Service is an information, referral and action agency with the Army-wide motto of "Self Help, Service and Stability". Army Community Service has been organized to assist active duty military personnel and their dependents, and retired personnel, widows of deceased military personnel, and members of other services when their branch is not readily available.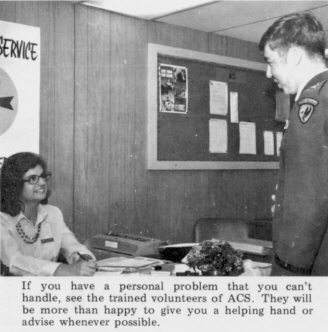 Army Community Service acts as a referral agency to both civilian and military agencies ACS is also an action agency offering a wide range of marital, personal, and family counseling services and handling of Army Emergency Relief, Army Relief Society, and retired affairs.
Army Community Service maintains brochures of approximately 100 other installations located in the continental United States and overseas. The bro­chures are available to anyone desiring advance in­formation on a new assignment.
A free lending service is also maintained to provide assistance to those individuals who are awaiting arrival of household goods. Such items as pots and pans, dishes, silverware and baby cribs are readily available for those who need them.
New arrivals are encouraged to write to ACS as soon as possible in advance of arrival in order to receive answers to specific questions.
Six religious services are conducted at the two chapels every Sunday. The Sunday schedule is: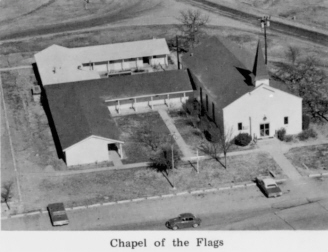 Chapel of the Flags
1100 Protestant Worship
Chapel on the Hill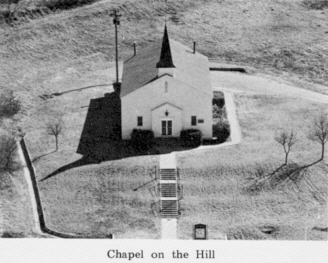 0930 Catholic Mass
1100 Catholic Mass
1200 Catholic Mass
The religious education program for Catholics and Protestants is held in Chapel of Flags Annex. Protestant Sunday School begins at 0930 each Sunday. Catholic Rel. Education is discontinued only for the summer. A Protestant summer bible school is held during the summer vacation period. Religious classes for adult instruction are available the year round. (Contact with the chaplain's office will provide the answer to most questions.)
Choirs and chapel organizations usually found in local parishes are in operation at Fort Wolters.
Student Activities Building
0830 Catholic Mass

0900 Protestant Worship
Other services are scheduled in non-chapel facilities as circumstances warrant.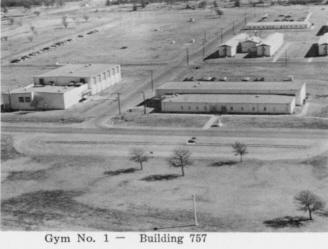 Jewish Personnel attend services at Ahavath Sholom Synagogue in Fort Worth. Military trans­portation departs regularly each Friday and High Holy Days from Fort Wolters to the synagogue. Further information on Jewish services can be obtained by calling the Center Chaplain's office.
Churches of almost every denomination can be found in the nearby towns of Weatherford and Mineral Wells. The Center Chaplain's office will be happy to furnish information on local churches.
LOCATION: Bldg. 236.
HOURS OF OPERATION: 0730-1630 Monday-Friday.
The Family Housing Office is prepared to assist personnel in their efforts to obtain suitable housing for their families.
Family housing available at Fort Wolters con­sists of five sets of government quarters and 490 sets of Wherry Act Housing which are under pri­vate ownership. Assignment to these quarters is controlled by the Family housing Office. Personnel assigned to the government quarters will be re­quired to surrender their BAQ. Those assigned to quarters in Wolters Village will draw their BAQ and be charged the following rentals:
OFFICERS:
1 Bedroom Duplex $66.95 or $64.85
2 Bedroom Duplex 85.65 or 75.65
3 Bedroom Duplex
(Co. Grade) 89.35
3 Bedroom Single
(Field Grade) 104.35
1 Bedroom Single 120.85
4 Bedroom Double Duplex 120.85
ENLISTED:
1 Bedroom Duplex $ 64.85
2 Bedroom Duplex 75.65
3 Bedroom Duplex 89.35
4 Bedroom Double Duplex 120.85
Rental includes carport, water, garbage collec­tion, TV cable service, refrigerator and range. Furniture may he rented for $20.00 to $25.00 per month, depending on quality.
To establish eligibility, an application must be filed with the housing office. The applicant's name is then placed on the family housing waiting list. (The waiting list is in accordance with Priorities established by the USAPHC Regulation 210-3.)
Permanent party personnel are placed on the waiting list by seniority in rank on the day they sign in and apply.
Adequate modern off post housing is generally in short supply. Older housing and mobile homes are usually readily available within easy commuting distance. The Family Housing Office maintains listings of available off post rentals. These listings are maintained in building 236 during working hours and in building 228 after hours and non working days.
The Family Housing Office can save you con­siderable time and effort in locating suitable quar­ters and you do not have to be in uniform or signed in on post to utilize our services.
Students are not eligible for housing in Wolters Village.
On a rolling slope above Center Headquarters and Beach Army Hospital is the new Officers Open Mess. Of white brick construction in the Spanish motif, the club is designed to accommodate 700 guests in four private party rooms, ballroom, dining room and bar. The center of attraction in the new facility is the grand lobby which affords an excel­lent relaxing area while waiting for guests and functions. The decorative decor for the interior is the ultimate in good taste following the Spanish custom.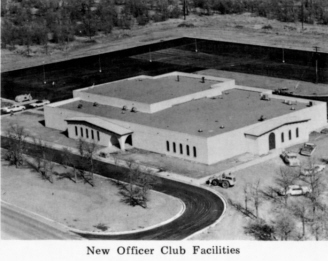 The kitchen provides for maximum capacity for luncheon meal service with portable, all electric cafeteria counters which can also be set up for private party room buffet service. Evening dining is a delight with gourmet service a specialty.
Hours of Operation
Dining Room:
Brunch Sundays and Holidays
Luncheon 1100-1330 Weekdays
Dinner 1700-2100 Tuesdays thru Thursday
1700-2200 Friday and Saturday
Main Bar:
Tuesday-Thursday 1100-2300
Friday 1100-0100
Saturday 1100-0100
Sunday 1100-2300
Checks Cashed Nightly 0800-Closing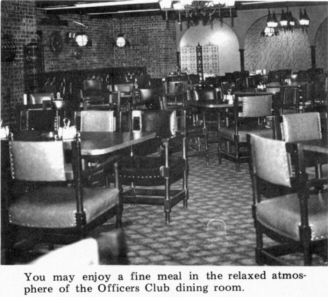 The Fort Wolters Officers' Wives Club main­tains an active social schedule including luncheons, teas, and special activities.
Each year a variety of individual and group participation activities such as bridge, bowling. gourmet cooking, and various crafts are offered to the membership at a September membership tea.
The OWC also prides itself on being a chari­table organization. The big money making project of the year is a '49er party, the proceeds of which go to charity.
Combined business and social meetings are held the second Wednesday of each month at the OOM at a 12 o'clock luncheon.
LOCATION: Bldg. 830 on Hood Road.
HOURS OF OPERATION: 1600-2300 Monday thru Thursday; 1600-2400 hours Friday; 0900-0100 hours Saturday; 0900-2300 hours Sunday.
The NCO Open Mess serves the morale and recreational needs of the noncommissioned officers, specialists and warrant officer candidates of Fort Wolters. Services offered include dining and snack facilities, cocktail service, buffet and party arrange­ments. A 96 foot x 66 foot ballroom, featuring a stage complete with spots and colored lights on rheostat control, and three service bars furnish show, dance, seating and service facilities for all styles of entertainment. A calendar of special activ­ities is distributed each month.
NCO Club facilities and their hours:
DINING ROOM: Monday-Friday, 0830-2130 for food service; 1100-2130 for beer, soft drinks and snacks, Saturday-Sunday, 0900—2130.
MAIN BAR:
Monday-Thursday, 1600-2300 hours
Friday, 1600-2400 hours
Sunday, 0900-2300 hours
Saturdays, 0900-0100 hours
DANCING:
Friday, Saturday—Dance to a live combo in the ballroom.
Other Club Activities:
Monday – Nickel Beer – 1700-1800
Tuesday-Happy Hour-1900-2000
Thursday-Happy Hour-1900-2000
Thursday-Pinochle Tourney
Club Card Drawing
One additional Happy Hour to be announced by the secretary.
The Noncommissioned Officers' Wives Club meets the first Tuesday of each month at the NCO Open Mess.
The Hospitality Chairman of the organization can furnish further information concerning mem­bership, dues and special activities.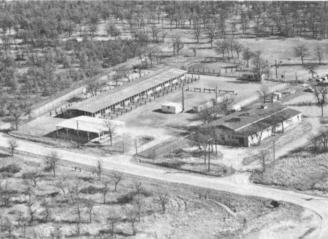 LOCATION: The club is located at Heintzelman and Wagner Roads at Fort Wolters.
HOURS OF OPERATION: Weekdays, 0730-1800 hours during the winter months and 1530-2100 hours during the summer months. Weekend hours are Saturday 0730-1800; Sundays 1300-1800 during the winter months and Saturdays 1300-2100 and Sundays 1300-2100 during the summer months.
The club owns 15 horses that are rented for $l.00 per hour to club members. There are limited facilities for stabling private mounts at rates estab­lished by the board of governors.
All Fort Wolters military personnel, DA civil­ians and Southern Airways employees are eligible for membership. Dues are $6.00 per month per sponsor. Western riding lessons and English equita­tion classes are offered to both children and adults on weekdays..
The club address is: The Fort Wolters Boots and Saddle Club, P. 0. Box 544, Fort Wolters, Texas 76067.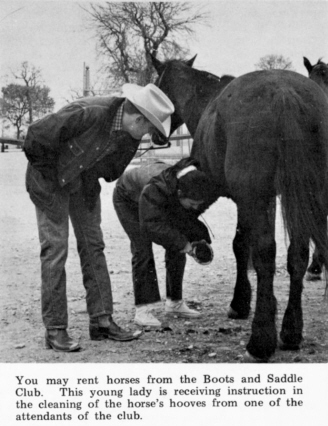 LOCATION : Bldg. 805 on Hood Road.
HOURS OF OPERATION: 0730-1130, 1230-1630 Monday-Friday.
Special Services activities are operated primarily for the use and benefit of all military personnel. Dependents of military personnel, retired military personnel and their dependents may also use Special Services facilities. ID cards are required for identification of all personnel not in uniform. In addition to the facilities listed, seasonal sports programs and recreational activities are conducted.
LOCATION: Bldg. 906 on Hood Road.
HOURS OF OPERATION: 0730-1130, 1230-1630 Monday-Friday.
Canoes, flat bottom boats, shotguns, golf clubs, tennis racquets and archery equipment are available for check out by individuals seven days a week. One movie is shown daily commencing at 1900 hours. Two movies are shown on Fridays and Saturdays at 1800 and 2000 hours. In addition, a matinee is shown on Sunday at 1400 hours.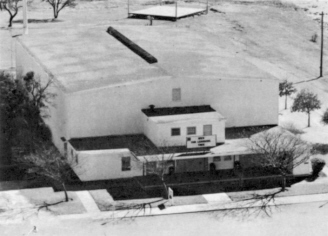 All military personnel and their dependents, retired military personnel and their dependents are authorized to use this facility. All personnel not in uniform are required to show proper identification before admission to the theater will be granted.
Gym No.2
LOCATION:
Main Library— Bldg. 907 on Hood Road
Branch # 1—Beach Army Hospital
HOURS OF OPERATION:
Main Library 1130-2100 hrs. Monday thru Friday
1300-2100 hrs. Sat., Sun., and Holidays.
Branch #1 (BAH) 1300-1500 hours. Mon., Wed., and Friday.
Main library facilities include 19,500 clothbound volumes in all classifications including a special collection for children, 2,500 phonograph records for circulation and 92 current periodicals including 19 newspapers. The branch at Beach Army Hos­pital offers a collection of 2,500 volumes including fiction and non-fiction. Book cart service is provided for patients during hours of operation.
LOCATION: Bldg. 801 just off Hood Road.
HOURS OF OPERATION: 1300- 2100 hours Sunday thru Thursday; Friday closed; Saturday 0900- 1700 hours; Holidays 1300- 1700 hours.
Power tools and hand tools are available for use on projects ranging from small items to boats. Lumber and plywood, both hard woods and soft woods, is available for sale to authorized personnel at a nominal cost. A professional carpenter is available to assist Personnel using this facility.
LOCATION: Bldg. 803 on Hood Road.
HOURS OF OPERATION: 1300- 2100 hours Sunday thru Thursday; closed Friday; 1300 - 1700 hours Saturday and holidays.
Facilities and equipment are available for work in ceramics, leather, photography, lapidary, jewelry, Pottery, fine arts, mosaic and graphic arts. Periodic classes are given in these crafts A professional instructor is available to instruct and assist per­sonnel using this facility.
LOCATION: Bldg. 822 east of Hood Road.
HOURS OF OPERATION: 1400 - 2200 hours Sunday thru Thursday; closed Friday; 0900- 1700 hours Saturday; 1300- 1700 hours holidays.
Hand tools and power tools are available for all types of motor repairs. Arrangements have been made with local merchants for a discount on auto­motive parts. The shop director may be contacted for full details. A professional mechanic is available to assist personnel using this facility.
LOCATION: Bldg. 905 on Hood Road.
HOURS OF OPERATION: 1300- 2100 hours Monday through Friday; 1300 - 220() hours Satur­day and 0900 - 2100 hours on Sunday and holidays.
The club is for enlisted personnel and their dependents. It sponsors dances, talent shows and variety shows, contests and tournaments, special interest groups and special parties. Facilities include a record player and records, tape recorder, musical instruments, color television, pool and ping-pong tables, reading and writing facilities, small type games and cards. Coffee is served daily with donuts on Sunday and holidays from 0900 to 2100 hours.
LOCATIONS: GYM 1. Bldg. 731
HOURS OF OPERATION: 0900-2100 hours, Monday-Friday 0900-1800 Saturday; 1300-1900 Sunday and Holidays. Basketball, volleyball, badminton, handball, gymnastic, boxing, weight lifting, and wrestling equipment, whirl pool, showers, locker room, handball courts, archery targets, and horse­shoe pits are available at Gym 1. Tennis shoes, gym shorts, and towels are also available.
GYM #2
HOURS OF OPERATION: 1300-2000 hours, Monday-Friday; 1300-1800 hours, Saturday, Sunday, and Holiday.
Softball, Flag Football and Soccer
There are four ball fields, two of which are enclosed, one of which is lighted for night play. Persons interested in playing on a softball team, soccer team, or flag football team should contact their unit A & R officer. The soccer field is adja­cent to the west side of the Post Parade Field. For field reservations contact the new gymnasium.
A tennis enclosure is located on the Knight road between Lee Road and Hood Road. There are four courts in the enclosure and they are lighted for night use. Three unlighted courts are located adjacent to the new gym. Bldg. 734.
Two indoor handball courts are available at the new gym, (Bldg. 734).
LOCATION: Bldg. 30LOCATION: Bldg. 308 on Lee Road.
SWIMMING POOL – HOURS OF OPERATION 1130-2100 hours Monday-Saturday; 1200-2100 hours Sunday and Holiday.
A 50-meter Olympic-type swimming pool is located on Lee Road across from Beach Army Hos­pital. The pool is operated from May 1 thru Labor Day weekend.
Qualified lifeguards are on duty at all times. Swimming classes are conducted throughout the swimming season for all age groups at no charge. All pertinent information concerning these classes is published prior to the opening of the pool in May. Special poolside parties may he scheduled by units, activities or authorized groups after hours of opera­tion by calling the Special Services Office.
Five picnic areas, equipped with tables and barbecue grills, are available for use of all military personnel and their dependents. Units and activities may reserve a picnic area for large parties by calling Special Services Office.
Possum Kingdom Recreation Center
The Possum Kingdom Recreation Center is located on Possum Kingdom Lake, approximately 35 miles northwest of Fort Wolters. Facilities include boats and outboard motors, fishing dock. picnic area, swimming area and sailboats. Family or bachelor units are available for rent to personnel desiring to stay overnight. Reservations for units may he made by calling the Special Services Office from 0730-1630 hours. Park recreation area is open 0730-2000 hours, 7 days a week. Special arrange­ments for any other times must be made in advance.
The Special Services skeet range is located next to Bldg. 600 at the junction of Hood Road and Grant Road. Clay targets are available at a nominal cost to the participant. Skeet range is open 1300 to dusk, Saturday and Sunday.
LOCATION: Bldg. 831 just east of Hood Road.
HOURS OF OPERATION: 0900 – 2300 hours Monday - Friday; 1000 – 2300 hours Saturday and on holidays and 1300 – 2300 hours on Sunday.
The air-conditioned bowling alley has six lanes with automatic pin setters. Charge for bowling is 30 cents a line. Bowling balls are available and shoes may be rented for 10 cents. Leagues for both men and women are conducted throughout the year. Interested persons may obtain information by call­ing the bowling alley. Free instruction is provided for beginners, if desired. Retail sales of bowling balls, bags and shoes is also available.

The Holiday Hills Golf Club, located on Highway 180 adjacent to Fort Wolters, offers their facilities to military personnel and their dependents. The eighteen hole course is open the year-around. A family membership is offered the military at a nominal cost. Golf equipment may he checked out at the Special Services Supply, Bldg. 906.A driving range is located on post at the northwest corner of Ross Road and Gorgas Street.
Educational Facilities Army Education Center and MOS
Library
LOCATION: Building 813 on Hood Road.
HOURS OF OF OPERATION: 0730-1430 Monday -­ Friday.
SERVICES: College classes conducted by local colleges, tuition assistance for qualified military personnel, correspondence course material through USAFI and participating colleges and Universities.
TESTING: High School GED, college level exam program, end-of-course exam for subjects offered through USAFI, Army Personnel test and MOS Proficiency test.
Dependents and civilian personnel may attend college level classes on space available basis.
LOCATION: Bldg. 335 on Lanham Street.
HOURS OF OPERATION: 0715-0130 hours Friday; 1000 – 0130 Saturday; 0900 – 1315 Sunday (free nursery for persons attending chapel services) 0715 — 1700 hours Monday, Tues­day, Wednesday, and Thursday. Special openings are announced weekly in the post newspaper. Reservations are necessary at t all times. Age group for the nursery is 3 months to 10 years of age.
Further information on the facilities and rates can be obtained from the nursery.
NURSERY RULES FOR PARENTS:
1. Age limits of children utilizing nursery—3 months to 10 years.
2. Reservations required for day and night utilization of nursery. For daytime func­tions (coffees, luncheons, teas, etc.) reser­vations must be made by each individual whose children will use nurserv facilities a day in advance.
3. No children will be accepted at nursery after 9 p.m.
4. All reservations made which are not kept or canceled within two (2) hours of stated time will be charged for the rate of two (2) hours care.
5. Children brought in must be clean and ade­quately dressed.
6. If children have any contagious disease. parents must present a doctor's clearance before a child will be accepted for nursery care.
7. Lunch is served daily except on Sunday. The lunch fee is 40 cents; if the child is not capable of feeding himself adequately or has to be spoon fed, 60 cents will be charged.
8. All clothing, diaper bags, bottles, lunches or lunch boxes. etc. must be specifically labeled in order to identify ownership.
9. Nursery attendants will have control and disciplinary authority over children in the nursery and will maintain such control and discipline without using corporal Punish­ment. Children who become behavior problems will he reported to parents and will be rejected if behavior does not improve.
HOURS OF OPERATION: 0715- 1700 Monday and Tuesday; 0715 - 1700, 1900 - 2300 Wednesday; 0715- 1700 Thursday; 0715 - 0130 Friday; 1000 – 0130 Saturday. For Protestant Services: 0900 – 1215. For Catholic Services: 0900 – 1315.
RATES: $.50 per hour – 1 child; $.60 per hour – 2 children; $.65 per hour – 3 or more children; $.50 to spoonfeed babies.
School-age children in Wolters Village attend elementary, junior, and senior high schools in Min­eral Wells. School busses from Mineral Wells pick up the children at six designated bus stops in the Village. Further information can be obtained from the Post Education Center, Bldg. 813.
LOCATION: Bldg. 367 on Sam Houston Street.
HOURS OF OPERATION: Morning classes: 0830 - 11:30: afternoon hours: 1230 – 1530 hours.
The post kindergarten includes classes for chil­dren in the five-year-old, four-year-old and three-year-old age groups. Rates are $15.00 per month.
Further information on kindergarten classes and rates can he obtained from the kindergarten office.
EXCHANGE FACILITIES
Dividends from activities are used for libraries, hobby shop, bowling alleys, and other recreational facilities. Personnel authorized to use PX facilities an urged to protect their privilege by not making unauthorized purchases.
RETAIL ACTIVITIES
Main Store (Bldg. 832) 0900- 1730 Mon., Tues., Wed., Thurs., Fri., Sat., 0900-2000 paydays.
Family Store (Bldg. 987) 1000-2100 Mon.-Sun.
Student Area PX (Bldg. 774) 1100-2000 Mon.-Fri.; 1000 - 1800 Sat. and Sun.
Neighborhood PY (Bldg. 353) 1600-2000 Mon.- Fri
FOOD ACTIVITIES
Main Cafeteria (Bldg. 832) 0700–1500 Monday-Fridays
SERVICE AND CONCESSION ACTIVITIES
Service Station (Bldg. 940) 0730- 1730 Mon-Thurs.; 0730-2000 Friday; 0730-1530 Saturday; Sunday - 0900 to 1500.
Main Barber Shop (Bldg. 808) 0800-1730 Mon.-Friday; 0800–1430 Saturday.
Student Company Barber Shop (Bldg. 758) 0900-1930 Mon-Fri. Closed Saturday.
Dempsey Barber Shop, 0900 - 1800 Mon.- Fri. Closed Saturday.
Laundry, Dry Cleaning, and Shoe Repair #1 (Bldg. 987); #2 (Bldg. 769); #4 (Bldg. 914); #5 (Bldg. 758); 1000-1900 Monday-Friday; 0830-1500 Saturday.
Optical Shop (Beach Army Hospital) 0900 -1700 Monday and Thursday.
Watch Repair (Bldg. 832) 0900-1700 Monday-Friday; 0900-1700.
THRIFT SIIOP
LOCATION: Bldg. 330 on Sam Houston Street.
HOURS OF OPERATION: 1000-1500 hours each Wednesday and Friday.
The Post Thrift Shop is operated by women representing Fort Wolters' ladies organizations. The
shop sells used and some new items of furniture, uniforms, clothing, appliances, toys, luggage, jewel­ry, books, etc. These items are received on consign­ment basis for a period of four months, after which it becomes thrift shop property, if not reclaimed by the consignor. Upon sale of merchandise, the shop retains 20% of the sale price and utilizes to support on-post and neighboring community activities.
Any donations of merchandise are accepted by the shop. Items on sale may be bought by the gen­eral public in the surrounding area as well as Fort Wolters personnel. The Thrift Shop is open year around.
The shop is supported by the ladies in the Fort Wolters area who volunteer their time to con­sign and sell merchandise during the hours of operation.
Fort Wolters ladies who may wish to volunteer their help in this worthwhile activity may contact the Thrift Shop manager, or the Thrift Shop representative in one of the ladies' groups.
LOCATION: Bldg. 225 on Van Story Street. The Fort Wolters Commissary store offers approximately 3000 items of nationally-known brand name food and household items, and attractive displays of fresh meats and produce. An extensive selection of troop issue merchandise is available for the price conscious shopper. Authorized patrons are given the best possible standard of service within available resources. Both day and night stocking crews continuously restock shelves by use of an endless conveyor system A night shift in the meat market processes fresh meat products for the fol­lowing day's sales. The Fort Wolters commissary meat market offers both USDA choice beef and ungraded protein beef, which is a pretenderized product sold at five to ten cents a pound cheaper than the choice beef. The entire staff of commissary workers are constantly working toward improving the efficiency and economy of the resale stoics' various operations.
HOURS OF OPERATION: 1000-1700 Monday; 0900-1900 Tuesday-Friday; 0900-1600 Saturday.