Victor Bruno Contini

1916 - 1944
Victor Bruno Contini was the fourth of five children born to Eduardo and Emmanuela Contini in Castellucio Valmaggiore, a picturesque mountain town in central Italy where the children romped in the hills and played in the shadows of an old Norman tower that belonged to the family. Victor began drawing in those days, but he was not to remain in Italy. His father, a volunteer soldier in World War I, emigrated to the United States in 1921. The rest of the family followed in 1928 and settled in the Cleveland, Ohio area.

Victor was fascinated with his new home and painted scenery whenever he could. After high school, he took a job as a mechanic, but was soon awarded a scholarship to the Cleveland Institute of Art. He attended for a few months before be was drafted to serve in World War II. His captain noticed his talent and arranged for the home front to send what art materials they could.
While serving in the Pacific in the 105th Infantry fighting to secure control of enemy islands, Victor Contini continued to paint the natural beauty where he found it including the man-made structures where he lived.

His letters form an important part of this exhibit. They reveal a man who saw himself as a player in a world effort to preserve freedom, who cared about the folks at home, who had a way of approaching life from the lighter side, and who saw art as a marvelous endeavor which he fully intended to pursue all his life.

Victor's attitude was one of wonder, enthusiasm, and belief in the task at hand. Although he was killed on Saipan in 1944, his art has graced the walls of family and friends for many years.
His Work
Most of Victor's known work is water color. One ceramic piece and one block print remain. A few paintings are oil and a few are watercolor with pen and ink.

Victor's known work can be divided into three periods:
His prewar work, some in Italy but most of the Ohio Countryside and downtown Cleveland in the late 1930's.

His Texas period which was mostly of Camp Wolters Army barracks where he was stationed in 1941.

His Hawaii period which is mostly of Hawaii seascapes. He was stationed in Hawaii right before being sent into combat.
The paintings of PFC Victor Contini are reproduced below with the permission of the Contini family. They are part of an exhibit entitled "Dreams of a Fallen Soldier" that will open on November 11, 2009, at the General Patton Memorial Museum in Chiriaco Summit in California. Additional information about visiting this exhibit can be found at www.generalpattonmuseum.com or by calling (760) 227-3483.
Copyright Held By Members Of The Contini Family.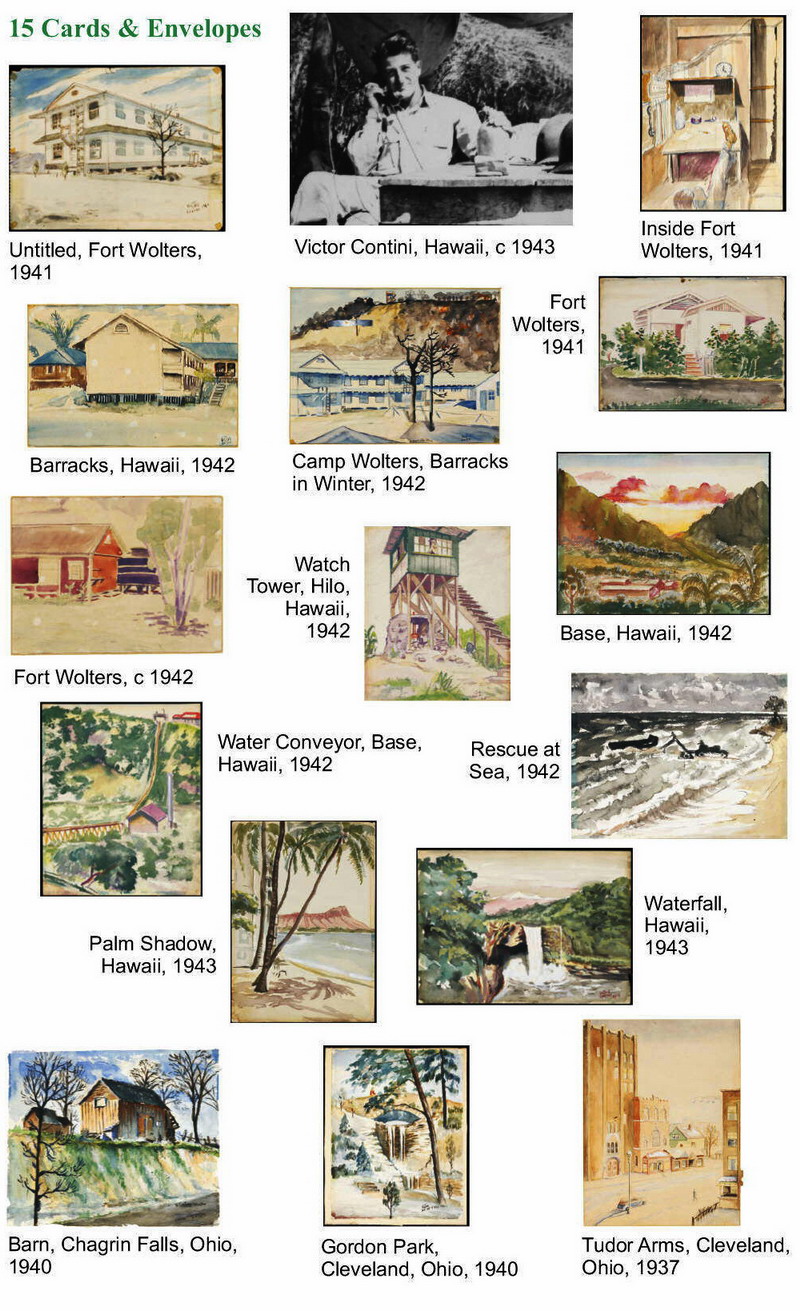 Watchtower, Hawaii c.1942
California Mission - Art Class, circa 1932 - Age 13
Rocky Beach, Hawaii, 1942
Beach Camp under Mountains by Shore, Distance scene, Hawaii, c. 1942
Rock Pinnacle by Beach, Hawaii, 1942
Rocky Lagoon and Palm, Hawaii, c 1942-44
Isle of Maui, Chopping Wood, 1944
Tent Camp, Hawaii, 1944
Wood Camp, Wolters
Beach Camp Hawaii, 1942
Stone Ramada, Hawaii c.1942
Cpl. Nick Chiarantona, Hawaii, 1943
Rocky Beach, Hawaii, 1942
Lagoon Daydreams, Hawaii, 1942
Cross on Mountain, Hawaii, 1944
Cactus, Camp Wolters, 1942
Untitled, Cliff Beach, Hawaii, 1943
Untitled, Mountains, Hawaii, 1943
Untitled, Walking the Beach, Hawaii, 1943
Roman Man, 1930, age 14
Untitled, Country House
Ohio Oil, 1939
Untitled, An Ohio Forest
Oil, 1939
Untitled, Aloha, Block Print
Hawaii, c 1942
Ocean Arch, Hawaii
Watercolor and Pane and Ink
1942

Untitled, Rocky Beach, Watercolor
Hawaii c 1942-43
Another Rocky Beach, Watercolor
Hawaii c 1943
Untitled, Diamond Head in Distance
Oil, 1943
Army Camp, Hawaii c 1942