Southern Airways of Texas, Inc. was a civilian firm which held a contract with the Army to perform certain tasks in connection with operations at the U.S. Army Primary Helicopter School. During WW II key personnel of Southern were involved in training several thousand military for the U.S. Army Air Corps. The company held the contract at USAPHS since the schools activation.
The contractor was responsible for primary flight training to include classroom instruction. Classroom subjects included maintenance, aerodynamics, flying safety, navigation, weather training and radio work.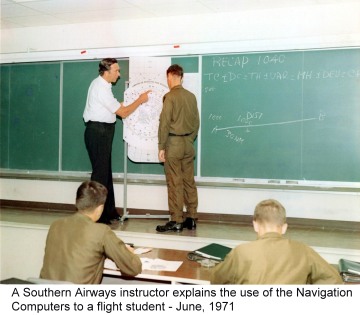 Most of the Southern Airways instructor pilots - over 300 of them - had prior military service.
In addition to actual flight training, the contractor was responsible for maintenance of all government-owned aircraft used in the training of Army helicopter pilots. Southern Airways also operated six mess halls supporting the U.S. Army Primary Helicopter School.
A major contributing factor to the outstanding safety record shared by the school and Southern was the maintenance performed by the more than 1800 personnel employed in Southern's maintenance department. Maintenance crews performed 24-hour round-the-clock maintenance to keep the aircraft in a high state of readiness. Aircraft that were maintained and flown in support of the training program were the OH-13, OH-23 and TH-55 helicopters.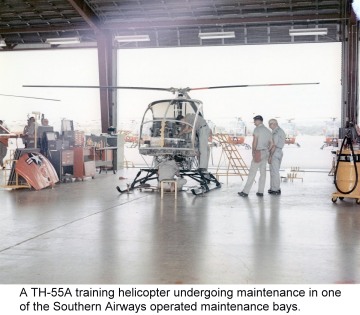 Programmed flying hours during 1969 averaged about 75,000 hours each month.
Southern's president and general manager, Raymond L. Thomas, came to Wolters in July, 1956, to take the position of general manager, USAPHS, for Southern Airways and, in addition, he was made vice-president of the company.
In February, 1964, the local operation became Southern Airways of Texas, Inc., a separate corporation from Southern Airways Company. Mr. Thomas was named president of Southern Airways of Texas.