Memories about Wolters Air Force Base - 1952
by Carrol C. "Red" Myers
Memories and photos kindly donated by Carrol "Red" Myers - Thank you Red!
My name is Carrol C. "Red" Myers. I was stationed at Wolters in 1952. Arriving there from Ft. Leonard Wood Mo. in early Feb.

They flew us in on old C-47's, landing at the Mineral Wells airport, somewhere across the road from the base. Meeting us with deuce and a half trucks, they hauled us to the comfort of our new home, a tent city made up of squad tents pitched over wooden platforms, with screened sides to allow for ventilation when you rolled up the canvas walls. There was room for 10 cots , and clothing was kept in garment bags for protection from dust, tarantulas, and scorpions. Snakes and horned lizards were abundant also. Not to mention armadillos, possums, skunks, and coyotes.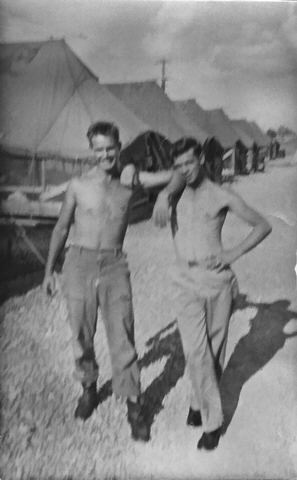 Left to right, Cpl Joe B Teston, PFC Carrol C "Red" Myers
There were several Battalions, and Battalion areas were divided by wide streets covered with lime rock, and when disturbed by any vehicular traffic, huge plumes of white as flour dust would drift across the area, and cover everything. They would wet it down with water trucks, but there was a serious drought that summer, and water was used stingily.

Sidewalks were wide areas between the rows of tents, covered with gravel that made a loud crunching sound when you walked on it. Orderly rooms, mess halls, and latrines, were plywood shacks, covered with tar paper, and paneled on the inside. The only attempt at cooling was exhaust fans and open windows.

After the Army closed the old camp at the end of WWII, most of the buildings were dismantled, and only a few remained.
Wolters having been reactivated as an AFB, naturally the Airedales had priority over the stationary housing. Some of our units however, like the two Group headquarters, and the Aviation Engineer Brigade Headquarters were housed in some of the old buildings.

The Air Force had an old blue school type bus that we dubbed, the Wolters rocket, that provided transportation to Mineral Wells. If you wished to visit Weatherford, Ft. Worth, or any other destination within bounds, you had to take the Greyhound bus from the station in town. Some of the fellows had cars, and if you could help out on the gasoline, three or four guys could extend their range on weekends, and explore other places. We particularly liked the college towns of Weatherford, and Denton, where there was lots of female students that felt honored to entertain GI's so far from home.

I was in Charlie Company of the 469th. Engr. Avn. one of my buddies had a slick 1941 Ford sedan. It was a real eye catcher, and girls really were attracted to it. One day in late June, he told me we needed to wash the car as we had planned a trip to Denton right after payday at the first of the month. Due to the severe drought we were on water restrictions, and washing vehicles, even Military ones was prohibited. Using water from municipal supplies for this purpose was punishable by a stiff fine. Water trucks hauled water up from the lake at Possum Kingdom for washing Military vehicles.

My friend came up with the brilliant idea that we would drive out to the bridge on the Brazos River near the dam that formed the lake, and go out on a sandbar just off the bridge. The sand was firm and we easily made it out near the edge of the river, and began washing the car from buckets we had brought along. We were about half through with the detail, when I happened to notice we seemed to be closer to the river than when we started. When I asked my friend if he thought we should move the car back a bit, he became excited and jumped in it to back up, and immediately became stuck in the sand that had been softened by our washing, and the rising river.

As luck would have it there was two young ladies wading in the waist deep water coming towards us, and didn't show much interest in us, until we told them we had seen snakes in the water, which changed their attitude toward us decidedly. Even with their help in trying to push the car free from the soft sand, it was a hopeless endeavor. The girls lived nearby and walked home and called a tow truck for us.

By the time the truck arrived, the water was already seeping into the floor of the car. The driver of the truck told us that they periodically let water out of the lake for use downstream, and it seemed we had chosen the wrong day for our enterprise. He drove his rig down pretty close to us, and pulled us free with little effort, but as he started backing up to get out of our way, he too became stuck!

We ended up paying for two tow trucks, which ended any plans for going to Denton anytime soon. We did however gain the sympathy of the two girls we had met, and were able to take them out to the movies a few times. But most of the locals were reluctant to let their daughters date GI's, unless we were willing to accompany them to church, but church didn't fit most GIs agendas.

It was so hot that summer, we would pool our money, and someone would rent a room in one of the hotels in town for a weekend, and a whole squad would end up staying in it, for the air conditioned comfort. But inevitably, that ended when civilian guest complained that the noise caused by the rowdy soldiers was annoying. After M.P.'S were dispatched a few times, the Crazy water hotel was put off limits to GI'S. We then resorted to just hanging out in the Skating rink, billiard parlors, or taverns, to escape the heat and boredom of the base.

We would sometimes stay in town until it cooled somewhat late at night. Returning one such evening, we had to cross a wide drainage ditch over which one of those French culvert type bridges was built. Some proud C.O. in the Company where the bridge was, had erected an arched sign over it proclaiming, " Through these portals walk some of the finest men the world has ever known ". Upon seeing this sign, I proceeded to go down into the ditch to skirt the bridge, when asked by one of my buddies, 'why the hell are you walking in the damn ditch?'. I replied, I don't think we should desecrate that sign!.

The Air Force being a very young service, having been separated from the Army in 1947, didn't have an Engineer force. So SCARWAF, or special category Army with air Force was formed, and Wolters was designated it's home. Units were deployed to various parts of the world on TDY, or, (temporary duty).

We cleared ground at Wolters for an airfield by literally moving a mountain out of the way. They are called hills there, but to me they looked like random mountains. There was one such hill just behind our company area, near a P.X., and the old Army hospital building that was in use at the time. I used to walk up that hill to an outgrowth of huge boulders, and read the names and unit numbers of soldiers from the WWII era etched into the rocks.

My unit was dispatched several times to Carswell, a large base in Ft. Worth, where Convair built the mammoth B36 bomber. An airplane with six piston engines mounted on the rear of the wing, assisted by four jet engines to help it into the air. We poured concrete into large forms, to make parking pads for each of its three sets of wheels.

We ate chow in a large consolidated mess hall, where everyone on base would eat. I used to see the flight crews come into the hall for breakfast, and leave with a sack lunch. They would board an airplane just off the assembly line, and fly it on a nonstop, roundtrip check flight, to Nome Alaska and return to Carswell for dinner that evening.

The 469th was scheduled to be deployed to France in early July, and I had sustained an eye injury when cement got into my eyes when a crane dropped a huge bucketful into the form where I was working. They washed the cement out of my eyes at the dispensary at Carswell, but I having rubbed my eyes, had sustained some damage. When we got back to Wolters, I was seen by a base Doctor, who decided I shouldn't be deployed with the. So I was transferred to Headquarters Company, 915th. Engineer Aviation Group. A small unit that was one of the fortunate ones that was housed in permanent buildings. No more tents for me!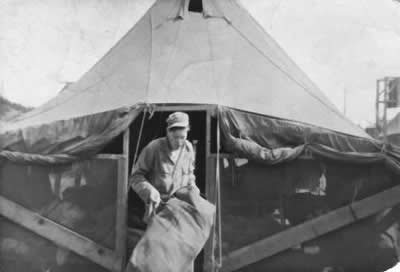 PFC Red Myers, leaving 469th, transferring to 915th Engineer Aviation Group Headquarters
The new unit consisted of about 75 men, all clerical types. When I reported to my new C.O., A young 1st. Lieutenant, he reviewed my orders, and said, I see you come from a line company, and have a general construction MOS. Unfortunately we don't do any construction work here, so I don't quite know what to do with you. He seemed to think for a moment, and said, hell, we'll call you the Company Carpenter! He stood and shook my hand and told me to draw my bedding from supply and make myself comfortable.

I didn't have anything much to occupy my days there, and spent a good deal of time in town. I became good friends with the Lt's jeep driver another P.F.C from Massachusetts. And there was another friend, a dental hygienist in the unit that kept cold beer hidden in an old unused boiler room in the dental clinic nearby.

I was pretty much a Beetle Bailey soldier in those last months. we didn't even have our own mess hall, we ate in a mess hall down the street, therefore nobody had K.P. in that unit, or guard duty. One day the C.O. came into the day room to find me lounging there, and said the washing machine was broken over in the barracks, and I should go over and see if I could fix it. I said you have the wrong man, I'm a carpenter remember? You need an appliance repairman. He threatened to have me shipped to Manchuria if I didn't follow his orders immediately! It didn't take long to put the new belt on the washer.

Our orderly room was in an old building that had a partition between it and a larger room that had been meant for a supply room, but the supply room had been converted to a day room, with a pool table, ping pong table, some lounge chairs, and an early model television set, one of those with a large cabinet, and a small, almost round picture tube. We had saved up enough money from contributions to the Company Fund, to buy the TV from an appliance store in town. When they delivered it to us, they constructed an antenna on a tower resembling one of the radio station towers in Ft. Worth. We were the envy of every unit on base, and guys from other outfits would try and get into our rec room to watch the Pabst blue ribbon fights on Friday nights. That ceased when we decided to charge admission.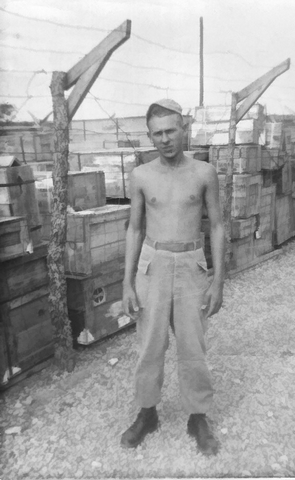 PFC Charles McMahan, standing by fence around storage area.
In late Sept. I was summoned to appear before a medical board, to determine if I should be separated from the Army, and subsequently, on Oct. 8, 1952 my Army days ended with a medical discharge. When I got back to the Company from the separation center, The Lt. with his hands behind him, asked if I had gotten my Mustering out pay. When I replied yes, he produced two large paper weights in the form of a pair of dice, and tried to engage me in a game of craps. He had my friend P.F.C Carter his driver, take his jeep and haul my bags to the train station. It was on Friday, and he gave Carter the rest of the weekend off, so we could go out on the town.

The Texas state fair was in Dallas, and we decided to go there. After making the rounds of the midway, and having consumed an enormous amount of beer, hot dogs, chili, and about all the other Tex-Mex condiments there is. Carter decided we should get on the roller coaster. The park where the fairgrounds are, near the Cotton Bowl, hosted one of the largest roller coasters in the world. We were seated in the front car, and as we struggled up the first incline I remember thinking, this is really tame, but after reaching the peak, and being able to see just about everything in north Texas, the thing fell out of the sky, and I was gripped in terror. I lost everything I had eaten and drank that week, I have ridden airplanes with stunt pilots, that have never given me a ride that could parallel that coaster.

We left the fair and got a room in a hotel in town, and spent the rest of the weekend getting over the fair. Carter took the Greyhound back to Wolters on Sunday evening. I had started out with a little over seven hundred dollars muster out pay, and had less than fifty left. So I got up Monday morning and caught a city bus out Highway 80 east, toward Sherman, got off at the end of the bus route and began hitchhiking home to Georgia.

I have been back to Wolters on two occasions, once after it had reverted back to Army status, and the basic helicopter training school was there in the early sixties. I saw little change, save for the large Army Hospital , and new Headquarters buildings.

The hill that was in back of the long since vanished city of tents, was occupied by some tall communication towers, and a Nike missile site. So I could not go there.

The second visit was in 2000, at which time I was shocked, and dismayed to see the deteriorated condition of the once proud and bustling old post, filled with the sounds of cadence, and bugle calls. The old barracks were dilapidated, and forlorn, and some were inhabited by transients. The hospital housed a mental ward, and there was a prison on the grounds.

I am very saddened to know this place has seemingly been forgotten. soldiers like Audio Leon Murphy once trod this ground. Him being the most decorated, and famous soldier of that great war, WWII.

And I discovered when I read his story, another almost forgotten soldier, Pvt. Eddie Slovic was also trained there. The Army made an example of him, when he conscientiously objected to killing anyone, and executed him by firing squad for deserting his duty.

On this visit I was able to return to the area where the tents had been. It was overgrown by chaparral, I was also able to climb the hill again. The names on the rocks have been eroded by time, and are barely legible.

I wish somehow this place could be preserved as perhaps a National monument, with maybe a military cemetery, so that in some manner it could retain its identity as a military institution. I think it should be considered, Hallowed ground.