The Souvenir Book was printed and copyrighted by the Universal Press of San Antonio. Published in cooperation with the Public Relations Department of Camp Wolters, the photographs were furnished by C. Ekmark, the Official Camp Wolters Photographer.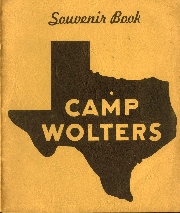 The Souvenir Book was sold to the trainees to provide them with a photographic memory of their training at Camp Wolters. Written text was limited and contrasts with the Camp Wolters Guide which contained a much more in-depth description of the services and facilities at the base. The Souvenir Book is somewhat rare and the photographs therefore of great interest. The booklet was a moderate (7.25" x 8.50") size and contained 32 printed pages of pictures and information. The booklet, as evidenced from the pictures of the Commanding General and his staff, must have been produced about mid-1941.
A scan of all of the pages can be viewed at a photo gallery at a greater resolution.
The complete text of the Camp Wolters Souvenir Book follows - click on the links below to go directly to the topic.
CAMP WOLTERS

One of the Nation's Four Infantry Replacement Training Centers... an expansion of the original Camp Wolters, which was founded in 1926 and named in honor of the Late Brigadier General jacob F. Wolters. Situated three miles east of Mineral Wells, Texas on U.S. Highway 80A. Grounds now exceed 15,000 acres and still growing. 643 buildings with more under construction ... doctors, lawyers, truck drivers, cowboys, artists... men from all walks of life...approximately 65,000 will pass through Camp annually and become buddies for the thirteen week's training period. The camp has a capacity of 17,500 men and accommodates 17 battalions at the present time. The personnel is divided into two units - see page No.2.

On arrival at Camp Wolters the trainee is assigned to a training battalion and company. The battalion is headed by a commissioned officer (generally a lieutenant colonel) and is divided into four companies of approximately 250 mean each, headed by a commissioned officer (generally a captain) who is known as the "Company Commander)." Each company is divided into platoons, which are headed by lieutenants. The lieutenants, with their sergeants and corporals, are responsible for basic training in drill formations and manual of arms. The sergeants, corporals and privates first class constitute the "cadre," a term used to designate the nucleus of a company.

COL. Fay Branson
Executive I.R.T.C.

LT.COL WM. H.McKee
Executive Camp Wolters

GENERAL Wm. H. Simpson
Commanding General

Note: The distance from the entrance around the circle and return is 4.5 miles.

Trainees Arrive at Camp Wolters. Trainees come from all forty-eight states to be trained here.

Uniforms (left to right): Winter Dress; Summer Dress; Summer Dress (note leggings and bonnets are worn for work and drill); Fatigue (worn for work and drill).

Note: Civilian clothes may be worn while off the Camp grounds, but the Army encourages the wearing of the uniforms at all times when on leave of absence.

Camp has six such areas housing seventeen Battalions.

Enlisted men's barrack houses approximately fifty-five men...

Interior of enlisted men's barracks (note each man has individual trunk, clothing space, etc.)

Recreation Hall

Insignia in front of 64th Battalion Headquarters

Headquarters Camp Wolters

Infantry Replacement Training Center (I.R.T.C)

Service Club, Camp Hostesses, Service Club Dance
Library

Cafeteria

The Service Club is a large building where dances, concerts and other programs are arranged by the camp hostesses. It includes a cafeteria, soda fountain and library. The club is open until 10:30 p.m. every evening. Each battalion has at least one dance in its 13-week training period.

Guests

Trainees' relatives, wives and families may visit him and stay at the Guest House at a nominal cost.

Camp Theatre

The Camp boasts three such theatres... pictures change five times each week...matinees on Saturday and Sunday. Theatre coupon books are available through the Post Exchange at a discount ... admission 14 cents. Mobile entertainment units, sponsored by Citizens Committee for Army and Navy, Inc., visit camp often... Chico Marx was one of the first featured.

Camp Chaplains

Communion

Religious services of all faiths - Catholic, Protestant and Jewish - are held in the camp and in the adjacent communities ... the camp chaplains are available for consultation and guidance ... Church activities are carried in announcements on the bulletin boards and through the Longhorn, official camp newspaper.

Top-to-bottom:Hospital Staff,LT. COL H. S. Blesse, Sickroom

The Camp Hospital is new and its equipment modern ... there is also a dental clinic, and periodic dental inspections are made to determine the needs of the trainees. The medical corp. takes every precaution against injury and disease.. Company Commanders and their officers lay particular stress on this point.

Nurses at Lunch and Nurses and Officers Mess Hall

First Call for Reveille (6:00 A.M.)

Breakfast (chow) (6:45 a.m.)

Clean-Up (7:00 a.m.)
Inspection is on a competitive basis and Best Company Guido is awarded each week to the Company having the neatest area.

Drill and Instruction (7:30 a.m. to 12:00 noon)

In Army jargon meals are referred to as "chow"

Rifle Practice

Retreat (5:15 p.m.)
Calling Girl-friend

Free Time (5:30 p.m. to 11:00 p.m.)

Visiting Mineral Wells

Taps (11:00 p.m.)

Main Camp Exchange (left); Inside Main Exchange (right)

The main Camp Exchange has six branches ("canteens"). including a hospital exchange... each has a complete line of essentials - shaving cream, tobacco, magazines, clothing, soft drinks, stationary, etc. The Post Exchange as a cooperative enterprise and the profits are turned back to the men in the form of athletic equipment, special dinners, etc. The trainee may obtain coupon books in advance of pay day and use these at the Exchanges.

Camp Post Office

Sergeant Baker

Camp boasts the smallest man in the U.S. Army - 5 ft., 105 pounds.

Signal Office

The Signal Office offers all of the facilities of a regular telegraph substation.

Camp Cannon used for Reveille and Retreat

We get them up in the Morning